The following is a brief history of the Brixton NTCG together with the ministers who led from her inception to the present.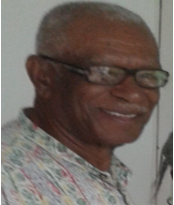 The Brixton initiative began in 1956 with a series of prayer meetings initiated by Bro James (Jim) Tomlin and his wife Ruby, who were joined by S U Thompson at St Stephen's schoolroom, Stockwell SW9. At that time, they paid ten shillings for rent (approximately £154.00 in 2016 value) per Sunday, for evening services only, with a handful of members to share in the vision for spiritual fulfilment and need to worship.
In April 1957, the New Testament Church of God Brixton was inaugurated by Rev O A Lyseight National Overseer, with S U Thompson as its Pastor and Brother Tomlin as secretary. The initial meeting was in St Stephen's school hall.
The struggle and efforts to continue and sustain the church began when the schoolroom at St Stephen's Parish Church, Dorset Rd SW9 came up for refurbishment and there was nowhere for the people of God to worship. Our God being ever faithful, provided a venue in Tulse Hill, where prayer meetings could be held until the refurbishments were completed. In 1958 the church hall at St Paul's church, Allardyce Street SW4 became vacant; but this was morning only. A Sunday school was then established. Evening services were held at: St John's Hall, Stockwell SW9 and Friend's meeting house, Brixton Hill SW2.
In early 1960, a fire swept through the church hall at Allardyce Street, leaving the church with no home. Sister Spence, however, came to the rescue and opened her living room where services were held until the church was able to return to the Allardyce Street church hall. Within the membership, were Mercedes Amos, (who held prayer meetings at her home), Rev E Swaby and Mother E Beccon (a lay preacher at the time).
Later that year the Church of England offered the church hall for sale at £12,500.00, a price the church could not afford and therefore had to move out in December 1960. The pilgrimage of the faithful members of the Brixton church continued until March1961 when the church was able to acquire her own premises at 64 Offley Road, Brixton SW9.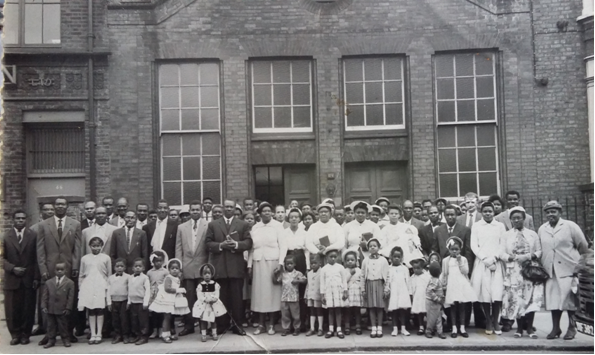 Very shortly after the acquisition of its premises in Offley Road, the church developed an outreach ministry in Catford. Brother and Sister Letts opened their home at 20 Felday Road SE13 for services until suitable accommodation could be found. With the evangelistic and motivating fervour of Pastor Thompson, this group was organised into a church in 1962 with Brother James (Jim) Tomlin and his wife Ruby as leaders. Twenty members of the Brixton church were sent to join them. Today, this church is the Lee NTCG, a very dynamic and thriving fellowship.
Over the years the Brixton church has played leading roles both at national and local levels. Two of the men who led her went on to become National Overseers (J McIntyre, and R.O Brown). From its rank came one National Secretary/Treasurer (Rev John Hall) and a National Laymen's Secretary (Rev Trevor Whyne). Two other districts (in addition to Lee), also came out of her: namely Deptford and West Croydon. The Brixton church also started the church in Mile End, with Mother E Beccan as its first Leader. This is now part of the Clapton district.
Rev S.U Thompson pastored the church until 1967 and became the focus for revival; he was transferred to Handsworth, Birmingham to continue his calling.
1967 – 1970 Rev J McIntyre, who succeeded Rev Thompson, faithfully served and led the church. In 1969 he was instrumental in setting up a crusade/concert at Westminster Central Hall, from which an LP of the live concert was produced – the first of its kind, for the New Testament Church of God.
1970 – 1973. The Rev E. G Kelly-Wright led this period. He served the church well and was dubbed 'easy-going-Kelly-Wright' because of the calm and influential manner with which he faced situations.
1973 – 1989 Rev Vernon Nelson, a visionary, led the church, which was at Offley Road, when he initially took up the pastorate. He wrote to the then prime minister, local members of parliament, the police commissioner, officials of Brixton prison and many other civic dignitaries raising the church profile in the community. During this time it became apparent that the congregation needed a larger building.
In 1970 Christ Church, Brixton Road, SW9 - soon to become redundant, was offered. However, the remaining members through the Privy Council ensured that it became a heritage building. From further enquiries we were advised by a friend of Christ Church that the Lambert Road Church, (an old Church of England building), was in a serious state of disrepair, unused and pronounced redundant by the Church of England; ready for possible demolition. Deacon Hugh I Bair the Chairman for Building, together with Bro Phillip Denton, led and co-ordinated a plan and the church was purchased in September 1977. Its only occupants were a worshipping army of pigeons. Faithful members of Brixton New Testament Church of God under the leadership and guidance of Rev V Nelson, took on the task of repairing and refurbishing the building. Like Nehemiah and his crew, it was brought up to an acceptable standard and was dedicated to the glory of God in February 1978.
The membership grew rapidly, and through the instrumentality of Bro Trevor Whyne a grant of £45,000 was obtained from the local authority to erect an upper hall for the provision of a youth club and other community activities. This necessitated the setting up of a social department which included a youth club, a Day Centre for the elderly and a mother and baby clinic; thus making Brixton a true community church. Rev Nelson even had the foresight in those days to accept the gift a traditional black taxi cab (which was customized to burgundy) for the use of transporting the elderly members of the day centre. As the day centre grew, it soon became obvious that the elderly folks needed a lift to enable them to easily access the church hall for their activities and so a lift was later added.
Rev Nelson served the church for 16 Years; sadly whilst on a visit to the USA he passed away.
1989 – 1994 became the era of the Rev C Fisher, a son of (the soil) Brixton church. He continued the building and social programmes and set up a part-time Theological school. Under his leadership the church hall was further developed to accommodate washroom facilities for the disabled as well as male and female users. A large industrial kitchen was installed on the ground floor along the south side of the church. In addition to this, a parsonage was purchased at 23 Penistone Road, Streatham SW16 5LU.
1994 – 1995 Rev R Brown a man of passion and a dynamic preacher led the church for only a year after which he was elected as National Overseer for England and Wales. During this time, however, he took praise and worship to another level.
1995 – 2015 Rev Dr RH Parkinson, a caring shepherd and very much a 'people's person' took charge of the church. The church continued to grow spiritually and numerically; he had a leadership style of developing members and lay-workers.
As the longest serving Minister of the Brixton church to date he has overseen the development of a number of initiatives. He was responsible for: the acquisition of two church vans and an ambulance for the disabled, comfortable coverings for the church benches, the refurbishment of the downstairs sanitary amenities, installation of the current audio visual system which has enhanced church services immensely and the purchase of the property adjacent to the church building, which coincidentally is 23 Lambert Road.
Two very memorable events that brought Brixton NTCG into the National arena of the country was the BBC Broadcasting of Pentecost Sunday from Brixton Church in 2005 and the visit from the former Labour Prime Minister, Gordon Brown in 2010.
2015 – Date Bishop E Brown our current pastor and former National Overseer, was birth in the Catford (Lee) church. He is a man of vision, a motivator and a great teacher/preacher whom God has been using mightily. Under his leadership the church has seen a reinvigoration of established ministries and the growth and development of new areas of ministry. Young men and women have been encouraged to look at themselves as emerging leaders who have a voice and an important role to play in the church and its future.
Brixton New Testament Church has certainly left her imprint on many of the churches we have today which began as Sunday schools under her leadership, namely:
Clapham church
Woolwich church
Vauxhall church
East Dulwich church
Herne Hill
Elephant & Castle church
Wandsworth
Rochester
In the revolutionary spirit of Rev SU Thompson and Rev James (Jim) Tomlin, Brixton church has played leading roles both at national and local levels. There are numerous unsung prayer worriers, heroes and even van drivers - who also played a vital role in the early days of the church conception. Some of these people are present today and we must salute them and their faithfulness. We must also remember other hardworking brethren who were also active participants, although they have been called to glory, their spirit remains with us.
During these early pioneering years' men, such as Brother Lindsay, Bro. Haughton and Bro. McClymont were up early on a Sunday morning, taking time to collect children for Sunday school.
The history of Brixton New Testament Church of God would not be complete without the mention of her longest standing assistant pastor, Reverend James Henry, who has faithfully served the church since 1961 and has been consistent in his presence during the tenure of each successive minister from Rev. Kelly-Wright to our current Bishop Brown.